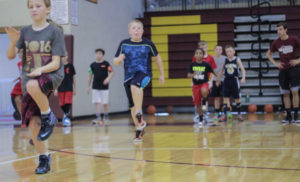 Elite Training By Trent is more than just basketball and skills training; we are committed to meeting the needs of our clients by implementing new ways to better serve you; which is why I've worked tirelessly on creating a new training format that benefits all parties of interest. With the creation of a more efficient, and all-around effective system, this will allow for maximum usage of resources, and even better results for you as a client. Our semi private group training sessions are purposeful, organized, efficient, and most importantly, they work! Please take a moment to read about the benefits of Semi-Private Group Training, below.
Using a similar approach to one-on-one skills training, semi-private group training places athletes with similar skill levels into cooperative groups. Individual skills are still the main focus, but a small group allows for competitive drills and in-game scenario training. Special emphasis is placed on developing proper footwork, ball handling and shooting skills. Players will not only hone fundamental skills, but practical application of in-game scenarios is a key element to this training format. Players will learn the importance of consistently and properly training outside of ETBT sessions. ETBT will provide athletes with customized take home training tips and drills.
Pricing Options: 
Monthly Unlimited Sessions (Group Sessions) – $150/person.
4 Session Package (Group Sessions) – $100/person.